Welcome at Bed & Breakfast Groot Overhorst
Always wanted to stay on a farm? A few days away from it all? A place where you come to rest, a place where nature still dominates? A place where you only hear the sound of bleating sheep, mooing cows and stray deer? But also a place where comfort and hospitality are within reach? That feeling can be found at Groot Overhorst in Voorthuizen. Literally next to the dairy farm we run a modern Bed & Breakfast in our newly renovated monumental sheepfold. Experience the Veluwe where hospitality, passion and local beauty go hand in hand.
© Copyright video
Omroep Gelderland
Click here to view our latest offers
View walking and cycling routes
" Spending the night at Groot Overhorst, a wonderful experience "
Online booking
It is possible to book online at Groot Overhorst. Using the form below you can choose your day of arrival, the number of nights you wish to stay and the number of people who come along.

Our bed and breakfast has two rooms available.
Legend
Both rooms free
'Voorhuys' free
'Achterhuys' free
Both occupied
Booking only possible by phone
Holiday

Check availability and prices

Check availability and prices
Our rooms
In our monumental sheepfold are two modern apartments called: the '
Achterhuys
' and the '
Voorhuys
'.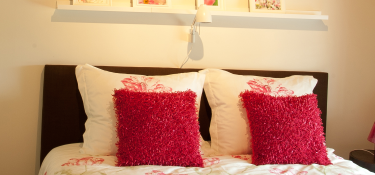 Read more
Have you always wanted to do:
Sleeping in a sheepfold overnight!
Hearing the sound of cows moo,
Unwinding your thoughts with deer in sight.
Getting up with a good breakfast every day,
Savoring a pleasant time.
Take your time to enjoy your stay,
Explore the area for a place to dine.
Luxury and comfort, a place to rest,
Can be found in this hospitable place.
Spending your time at its best,
At Groot Overhorst a great time is the case!
Address
Overhorsterweg 32
3781 ND Voorthuizen, The Netherlands